Home page
Burton Randall Hanson for Minnesota Supreme Court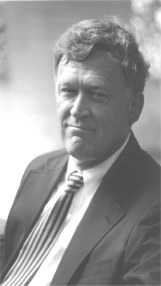 Judicial Challenger Burton Randall Hanson Explains Why He's Running
"Fill the seats of justice with good [people], not so absolute in goodness as to forget what human frailty is...." (Sir Thomas Noon Talfourd)
Hi. I'm one of the two candidates to succeed Chief Justice A. M. ("Sandy") Keith, who resigned in 1998. Under Minn. Const. Art. VI, Sec. 8, his resignation allowed Governor Arne Carlson to appoint a lawyer to fill the vacancy temporarily until a successor could be elected for a full six-year term at the next general election occurring more than one year after the interim appointment -- i.e., this election. Governor Carlson selected my opponent, Kathleen Blatz, then 43, a former legislator and political ally whom he had named to the trial bench at age 39 and as an associate justice at age 42. Explaining later why he appointed one so young and relatively inexperienced in judicial matters, Governor Carlson said: "I think age is terribly important. You want people who know how to relate. A person of my generation ought not to kid himself that he understands today's 22-year-old. I don't. I don't understand the young people with tattoos. I don't understand teenagers with earrings. You need somebody who's younger and more relevant to that age group. Kathy Blatz is only in her 40s. She's much more connected to it than I am." I don't mean to rely upon a silly caricature of my opponent (even one provided by Governor Carlson). In fact, I believe she is a fine person who merits your consideration. I merely welcome the chance to give you an alternative for your thoughtful consideration.
I'd like to explain why I decided to offer the voters an alternative to Governor Carlson's choice. In brief, and I explain this in detail elsewhere on this web site, it's because I believe we've lost something special here in Minnesota. You can see it in so many areas, including in the legal profession and in our judicial system.
Speaking about the legal profession, on May 24 of last year during one of her many public appearances, this one in St. Paul at Landmark Center, my opponent said, "I want to tell you that I am so proud of the Minnesota Bar, the lawyers in this state. I cannot tell you....I don't think we have to apologize. They are doing so much. This is not an issue or a problem."
I disagree, and I am not particularly proud of the profession. One commentator says billing clients is the main goal of large law firms. Others have aptly said that not even lawyers can afford to hire lawyers. Moreover, the profession has lost sight of Lincoln's ideal of lawyer as peacemaker, wise counselor.
Our state supreme court currently has the primary ultimate responsibility, to the people, of regulating the profession. It is an open question whether the court is "up to the task." Unlike my opponent's campaign, my campaign early on made it clear it would not seek or accept any endorsements and/or contributions -- not from any newspapers, interest groups or bar groups, not from any individuals, including politicians and, especially, lawyers. Given the court's responsibility to regulate the legal profession, I think it is particularly unfortunate that my opponent's campaign, at considerable expense and effort, has been actively soliciting and accepting endorsements and contributions from lawyers -- including, for example, by a letter to 15,000 members of the Minnesota Bar Association, nicely timed to arrive just before these lawyers received ballot materials in the Minnesota Bar Association's so-called "judicial plebiscite." My opponent, as one would expect, won the plebiscite handily, receiving 91% of the votes of the 24% (3,600 lawyers) who responded. And the President of the Minnesota Bar, as one would expect, believes you the voter should listen to the opinion of these bar association lawyers on how to cast your vote. I do, too: you should listen courteously and with respect to this unsolicited, free advice and then should reply, "Thanks, but no thanks. The courts belong to the people, not the lawyers, not the various bar associations, and we're capable of evaluating the candidates ourselves."
As I said, my campaign has not sought and is not accepting contributions or endorsements from any individuals or interest groups; this includes politicians and lawyers, the support of whom my opponent's campaign has actively sought and obtained. By refusing all endorsements and contributions, I have made it clear that I don't owe anyone anything, particularly the members of the one profession the court has the primary responsibility to regulate. Each candidate for judicial office has to make choices. My opponent, without violating any laws, made hers, and I made mine. I made mine so that I won't owe or even appear to owe anyone or any group or party or entity anything, and I will be truly independent and nonpartisan. Which one of us do you want to play a role in regulating the legal profession?
We've lost something special in the profession. We've also lost something special in our judicial system. Our Minnesota Constitution, which is based in part on the historic Massachusetts Declaration of Rights of 1780, provides in Art. I, Sec. 8: "Every person is entitled to a certain remedy in the laws for all injuries or wrongs which he may receive to his person, property or character, and to obtain justice freely and without purchase, completely and without denial, promptly and without delay, conformable to the laws." Sadly, as too many people find out to their disappointment every year, all too often the law is not sufficiently "certain" and justice may not always be obtained "freely and without purchase, completely and without denial, promptly and without delay, conformable to the laws."
And we're losing sight of a judge's proper role. My opponent has traveled around Minnesota making hundreds of speeches/ appearances since Governor Carlson appointed her in 1998. I believe she is proud of that and views it as a major accomplishment, and that is her right. Each judge has his or her own conception of the office. I have explained in detail why I won't be doing much of that if you elect me. And I have pointed out that the great Justice Oliver Wendell Holmes, Jr., gave only 45 or so speeches in 50 years as a judge. Holmes spent most of his time at the court, practicing judicial independence, doing the job people expect a judge to do. I intend to do the same if you entrust me with the opportunity to serve you.
I want to make it clear I don't question the integrity of my opponent, Kathleen Blatz, for running her campaign differently or for being a different kind of chief justice than I'll be if you elect me. I know and respect her both as a person and as a judge. Indeed, she's running her campaign the traditional way, just as some of my mentors at the court who faced opposition did. That's just not my way. When my favorite poet, Robert Frost, wrote about "Two roads diverg[ing] in a yellow wood," he never said one was better than the other, just that he took the less-traveled one. I'm just taking a different one than my opponent is taking. We're two different people. She comes from a political background, is outgoing, likes giving speeches and making public appearances, etc. -- in short, is good at the traditional kind of campaigning. As near as I can tell, she is doing it with dignity and restraint. Similarly, she is effective in the role of chief justice, as she defines that role.
As a chief justice, just as I am as a candidate, I'll be more the introspective, quiet, type -- more along the lines of the late Oscar R. Knutson, the first of the many "all above average" chief justices with whom I personally worked for 28+ years, beginning in 1970. Knutson was a man who in his quiet, unadvertised way (with the help of self-effacing legislators like Lawrence Yetka of Cloquet, who later served on the court as a truly great associate justice) modernized our court system. As the saying goes, "Still water sometimes runs deep." At least, it did with Chief Justice Knutson. I think that if you study my ideas, whether you agree with them or not, you will recognize me as a thoughtful, contemplative person who is independent, creative, not afraid to say what he thinks, open (as this web site illustrates), fair, decent, experienced, good at working with others as equals but -- and I think this is important -- also never afraid to stand alone, as I have been doing by eschewing the support of politicians and lawyers.
With this brief introduction, I suppose you expect me to urge you to vote for me. In fact, I'm not doing that. I just urge you to appreciate that you have a pretty good choice between two fine but very different people and urge you to choose thoughtfully and carefully. I'm not even "running" for office. All I'm doing is simply "standing" for a nonpartisan judicial office in a way that I am comfortable doing. One does what one thinks is right. I decided to put myself forward, even if it meant standing alone, because I believed it was the right thing to do. I'm conducting my campaign, such as it is, the way I am because I believe it's the right way for me to do it. As you stand alone in the sacred privacy of the voting booth, I trust you to make what you believe, not what someone else believes, is the right decision. Why do I trust you to make a better decision than lawyers might make or than a politician might make? As Thomas Jefferson said, "If you state a moral case to a plowman and a professor, the farmer will decide it as well, and often better, because he has not been led astray by any artificial rules." I believe this because I have plowmen in my recent ancestry and have known my share of professors.
So that you may better inform yourself as to my candidacy, I am personally maintaining this web site. Although it is costing me less than $20 a month (which wouldn't pay for too many letters to lawyers), it contains detailed information on a variety of topics relating to my campaign.
I also am posting longer, more formal Position Papers on the issues that I am raising during the campaign. My first one is entitled
Endorsements and Contributions
, which explains in detail why I decided not to solicit or accept any endorsements or contributions, from lawyers or anyone else, and why I am limiting my total campaign expenditures to under $200, possibly under $100.
My second in-depth paper is entitled
Mandatory Retirement
, which explains in detail why I believe mandatory retirement of judges at age 70 is harmful to the judicial system, depriving voters of their right to select more experienced, wiser, older lawyers to be their judges and resulting concomitantly and unfortunately in the appointment of more and more younger, relatively inexperienced lawyers as judges.
My newest position paper is entitled
Judicial Independence and Accountability
. It criticizes the superficiality of recent public discourse and judicial efforts relating to these topics and proposes, in detail, the steps that will lead to real judicial independence and accountability. If you read only one of my detailed papers, I'd like you to read this.
I am also making other material available, including: a) in
Q&A
, my detailed answers to a set of questions asked of me by the editors of a legal newspaper; b) in
Speech
, a transcript of remarks I made a number of years ago at a ceremony honoring one of my mentors; and of interest to everyone, in c)
Quotations on Law and Justice
and in d)
Emerson for Judges
, some favorite quotations of mine that may give you insight into the kind of judge I hope to be if you elect me. Finally, for reference, I am making available e) the text of
Article VI
, the Judiciary Article of the Minnesota Constitution, and f) in
About BRH
, some brief biographical information.
Copyright (c) 2000 by Burton Randall Hanson - Prepared & published by candidate on his own behalf and at his own expense. Candidate may be reached by e-mail at BRH@CampaignWebSiteURL or by mail at address listed on Secretary of State's website.